The Single-Source Solution
Since 1978, Canyon State Electric has specialized in electrical solutions, design-build construction, low voltage systems, and more.
With detailed knowledge of infrastructure design and engineering plus our long-standing history of dedicated and dependable people, we have the experience and resources necessary to meet your project's design and installation needs.
An electrical subcontractor you can trust with your relationships
Your clients expect projects to be done on time, on budget, at an excellent level of quality. But with so many variables out of your control, you need a reliable, Arizona-based electrical subcontractor to keep your project moving.
Never have a tough conversation with a client again. Our electrical contracting services protect your relationships and save you money through innovative VDC and prefabrication methods which guarantee a job done right the first time.
Getting Started is Simple
Whether you need a custom design-build or a partner to execute on pre-approved plans, our innovative construction process allows us to install your electrical systems quickly, safely, and without any mistakes.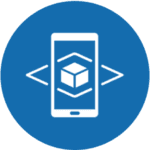 Virtual Design & Construction
By virtually assembling the building before breaking ground, we ensure the design is optimized for success.
We construct and complete entire conduit networks and electrical rooms off-site, then migrate and install the systems quickly and efficiently.
After completing your project, we provide you with continued support to keep your systems operational and up to code.
"Perfect place to get all your electric needs taken care of from the small residential housing to the biggest industrial jobs you can think of. Great customer service and great quality technicians."
- Joshua Taylor